What does the report include?
The 2019 GETI report takes a deep-dive into the impact of skills gaps and the talent pipeline crisis within the energy industry.
Produced by Energy Jobline and Airswift, the report also provides a global and regional analysis of salaries and remuneration, hiring rates, job opportunities and the movement of people. The report is based on a survey of over 17,000 professionals and hiring managers from 163 countries and 151 nationalities.
Energy Jobline
Energy Jobline is the leading specialist job board for energy globally and currently hosts a database of over 750,000 professionals, advertising over 10,000 of the world's top energy jobs. Energy Jobline (EJL) offers talented industry professionals exciting opportunities in the Oil & Gas, Renewables, Power, Nuclear and Petrochemicals sectors.
Energy Jobline focuses heavily on industry mobility and enabling its vast network of talented professionals to move between energy sectors where possible, as well as supporting the global mobilizing of energy employers and candidates. This has enabled Energy Jobline to become the go-to job board for jobseekers, with a third choosing us as their exclusive job board partner.
Energy Jobline is a significant value-add to any energy employer or agency, providing the best recruitment opportunities to both professionals and businesses globally.
Whether you are looking for a new role or you are looking to hire the best talent in the energy market, please contact us to discuss in more detail.
Contact us to find out more:
geti@energyjobline.com
www.energyjobline.com
Visit website
Airswift
Airswift is an international workforce solutions provider within the energy, process and infrastructure industries.
We serve as a strategic partner to our clients, offering a turnkey workforce solution to capture and deliver the top talent needed to complete successful projects. Our expert team of recruitment consultants are also ideally positioned to help candidates find their next role, while our global mobility teams support them every step of the way.
With over 800 employees in 52 offices worldwide, 6,000 contractors and a candidate database of 500,000, our geographical reach and pool of talent available is unmatched in the industry and the level of experience that the organisation has is unparalleled.
Airswift works with 100% of the world's supermajors and is ideally placed to be the global leader of workforce solutions to our target industries.
Our expertise covers a range of service lines, including talent acquisition, global employment, global mobility, managed solutions and consultancy.
Contact us to find out more:
geti@airswift.com
www.airswift.com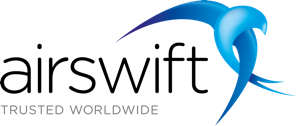 Visit website