What does the report include?
This is the story of an industry landscape undergoing tectonic shifts.
Surging energy prices and shortages have produced an oil and gas pay and profit bonanza while also accelerating the energy transition and helping renewable pay increases to return to pre-pandemic heights. Fossil fuels and renewables are booming as many countries seek to fill the void from Russian imports, creating industry-wide skills shortages and salary rises. This shift has also put workers in the driving seat.
This year, we have chosen to examine how this period of flux will affect job satisfaction, future destinations, and career aspirations of energy workers as well as the sectors and countries at the top of their wish list.
This report charts how unprecedented environmental, geopolitical, and socioeconomic challenges are forging a new energy workforce. GETI 2023 lights the path through this upheaval for professionals and hiring managers. It supports professionals to chart the course of their ideal career, and for hiring managers to attract and retain talent more effectively.
Key themes:
Every individual and sector has experienced change, but the broader themes are:
It's an employees' market – but it's not all about money. Cross-sector salary rises and skills shortages are empowering an increasingly idealistic generation to seek jobs that also offer non-financial sources of fulfilment. The desire to contribute to society is among the leading drivers of job satisfaction, and ESG is consistently among the top three reasons for choosing another sector as workers move for the mission as well as the money.
Unprecedented upheaval has ironically produced a more settled workforce. Rising salaries and job satisfaction are reducing worker restlessness. An energy security and 2 price crisis has spurred record investment in fossil fuels, nuclear and renewable energy, boosting salaries and job satisfaction for workers in every energy sector. Inflationary increases in travel costs and a more family oriented, flexible-working generation are also reducing relocation incentives. This is creating a settled workforce that is less likely to cross borders, impeding cross-sector recruitment and global mobility.
Supply chain costs are surging and exacerbating skills shortages. Amid growing demand for skills, rising supply chain costs are diverting resources from recruitment and retention and from salaries and perks. Yet with pay and benefits ranked as the biggest drivers of job satisfaction across almost all sectors, this could be deterring potential recruits during a time of high demand for skills
.
Hiring manager solutions:
Hiring managers can turn these trends to their advantage by considering the following actions:
Fast-track career progression – with career progression the top driver for departing talent, learning and development is increasingly critical to recruitment and retention as well as retraining. Organisations should offer learning and development programs designed to upskill and fast-track professionals for promotion. With a workforce that prioritises mobility over stability and increasingly transcends sectoral silos, employers should also offer more support and opportunities for internal and international transfers.
Make ESG a brand differentiator – incorporate green energy innovations into the employer brand. Companies should offer new recruits the chance to drive innovation and decarbonisation efforts and offer internal transfers to green energy divisions. Building workplace benefits around health and family could also create a virtuous circle of recruitment – supporting in attracting a more diverse pool of candidates and thereby boosting inclusivity, skills and social performance.
Focus on innovation – innovation is a key driver for career changers and should become a key differentiator for employer brands. Legacy sectors should promote diversification of portfolios and digitalisation of operations. New innovations from green ammonia to artificial intelligence are instrumental in attracting STEM skills from other industries, including technology.
Offer employees the chance to drive ESG – with an ambitious, socially and environmentally conscious workforce, employers need to offer more career progression 3 opportunities and meaningful, ESG-oriented work. Hiring managers could offer employees the chance to drive internal diversity programmes or decarbonisation initiatives, or lead projects that bring secure and affordable energy to millions.
Survey demographics:
Airswift and Energy Jobline surveyed almost 10,000 energy professionals and hiring managers of 149 nationalities across five industry sub-sectors: oil and gas, renewables, power, nuclear and petrochemicals.
Energy Jobline
Energy Jobline is the leading specialist job board for energy globally and currently hosts a database of over 750,000 professionals, advertising over 10,000 of the world's top energy jobs. Energy Jobline (EJL) offers talented industry professionals exciting opportunities in the Oil & Gas, Renewables, Power, Nuclear and Petrochemicals sectors.
Energy Jobline focuses heavily on industry mobility and enabling its vast network of talented professionals to move between energy sectors where possible, as well as supporting the global mobilizing of energy employers and candidates. This has enabled Energy Jobline to become the go-to job board for jobseekers, with a third choosing us as their exclusive job board partner.
Energy Jobline is a significant value-add to any energy employer or agency, providing the best recruitment opportunities to both professionals and businesses globally.
Whether you are looking for a new role or you are looking to hire the best talent in the energy market, please contact us to discuss in more detail.
Contact us to find out more:
geti@energyjobline.com
www.energyjobline.com
Visit website
Airswift
Airswift is an international workforce solutions provider within the energy, process and infrastructure industries.
We serve as a strategic partner to our clients, offering a turnkey workforce solution to capture and deliver the top talent needed to complete successful projects. Our expert team of recruitment consultants are also ideally positioned to help candidates find their next role, while our global mobility teams support them every step of the way.
With over 800 employees in 52 offices worldwide, 7,000 contractors and a candidate database of 500,000, our geographical reach and pool of talent available is unmatched in the industry and the level of experience that the organisation has is unparalleled.
Airswift works with 100% of the world's supermajors and is ideally placed to be the global leader of workforce solutions to our target industries.
Our expertise covers a range of service lines, including talent acquisition, global employment, global mobility, managed solutions and consultancy.
Contact us to find out more:
geti@airswift.com
www.airswift.com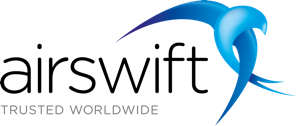 Visit website